Making a Rental Property a Home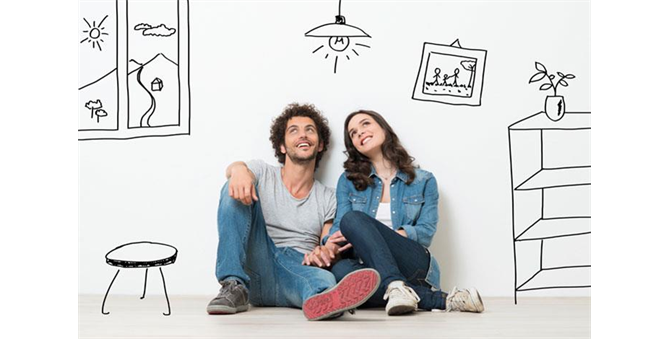 With increasing house prices and large deposits needed to purchase a home, long term renting has become the norm, although in many parts of Europe it's always been more common to rent than to buy. There are upsides; renting gives people the freedom to live where they want, it enables people to check out an area or a commute, and in some cases "road test" a relationship before making the big commitment.
It may not seem worth putting energy and resources into a "temporary" home, but living in a space, which makes you feel unhappy and is demotivating even for a short time, can sometimes feel like a life sentence!
So whether you are renting your home for the short or long term you owe it to yourself to make it "your place" where you can retreat from the world, rest and recuperate.
In my experience, most landlords are very happy for tenants to improve their home, as long as there's agreement about the scope and nature of those improvements.
Rental contracts require the property to be returned to it's original condition i.e. walls are filled and repainted, original light fittings are changed back, window treatments taken down and the original ones refitted when you move out.
But Crescent Heights and other apartment developers, are happy to allow tenants to paint walls, hang wallpaper, change light fittings, install window treatments, place artwork and upgrade closets etc.
After decorating the 2-bedroom model unit at NeMa in San Francisco, over 20 residents have asked me to help them do just that. One client wanted to create a grand setting for cocktail parties, so we took advantage of the 13ft ceilings and installed 2 large Austrian crystal chandeliers.
Another client, who also likes to entertain, asked me to turn their 2-bedroom 2-bathroom unit into several seating vignettes so that when friends came over they wouldn't feel crowded.
I turned the space in the hall which traditionally is used as a home office/guest sleeping area, into an intimate and relaxing place to invite friends effectively a second lounge with a luxurious look and feel: a velvet tufted sofa, hand printed wall paper, mirrored coffee table, a sumptuous thick pile rug and dramatic silk drapes.
These requests require elaborate work, whereas the majority of my clients ask me to help with space planning, furniture selection, fabrics for blinds, drapes (curtains), soft furnishings and paint colors for the walls.
As not everyone want's to work with a designer, here are my top 10 tips to help you turn your rental property into a home:
1. Buy the best furniture you can afford – less is more and good quality furniture will stand the test of time. If you love it you can take it with you.
2. Go for classically shaped, regular sized sofas in neutral colors so you're sure they will fit in your next place. A sofa can be easily reinvented with a new fabric, different colored pillows (cushions), and throws.
3. Go for an eclectic look rather than have everything matching e.g. have different style and shaped chairs around a dining table. An eclectic look enables you to experiment, develop your style and express your personality. As Sir Winston Churchill said "We shape our homes, and then they shape us."
4. No matter what size or style our home is, there comes a time when we could all use more storage/space:
instead of using a side table go for a storage cube with a lift off lid so you can store things inside and still put a lamp on top
– use the space under the sofa – put items in pretty boxes
– vintage suitcases create an interesting look and give you extra storage space
– using an interesting chair as an end table can look good and will provide additional seating when friends call round
5. If you have problems sleeping in a bright room, invest in some drapes (curtains). Pottery Barn & West Elm in the USA and John Lewis & Next in the UK have some lovely "ready mades". If your budget runs to it, have window treatments made in a fabric you love and include a black-out lining so your room is as dark as possible. Again, you can often reuse well-made drapes in your next home.
6. Start a collection of something to showcase your personality. Arrange items in bowls and clear vases etc. for added interest.
7. Create a trinket tray – it will be a stronger statement than spreading items out and will create an interesting focal point on a coffee table or in an entrance hall. Note: a trinket tray can only look as good as the trinkets on it – it's not a place for receipts and lose change!
8. If you have guests staying over, consider an interesting day bed instead of a sofa bed. There are some beautiful modern and vintage ones around and they won't compromise your style.
9. Real plants and flowers are a must as they add a homely feel to any space. If you travel a lot or are not good at remembering to water them choose varieties that don't need much water. If you really must have fake they have to be silk and dusted often!
10. As mounting TV's on the walls saves on floor space, arranging artwork around the perimeter of the TV can make an interesting gallery wall and give you something else to look at when the TV's not on!
If you are considering relocating to a rental in San Francisco check out Crescent Heights new development JASPER at 45 Lansing Street http://rentjasper.com. I'm designing the 3 bedroom model unit which will be open for viewing at the beginning of July.